After months of suspicion and a list of four motivated suspects, last night's episode of Coronation Street finally revealed Tina McIntyre's killer. A heated argument with Rob Donovan ended with Tina taking a tumble off the side of the balcony of the builder's yard, her body landing motionless on the cobbles below. In the following episodes we'll see an unconscious Tina in the hospital and her fate, although already determined by Keegan's exit from the show, won't become clear until next Monday. Though the aftermath of Tina's death is sure to linger on screen even long after she's gone. ITV shared a special look behind the scenes of the filming of Tina's fall, which you can view below. Also added to the gallery is 9 new stills from past/future episodes.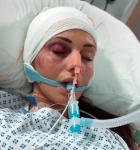 by Melissa on May 26th, 2014 • Categories: Coronation Street • Comments: Comments Off

on Corrie Stills + Behind the Scenes + Promos
25 new photos have been added to the gallery, including 16 episode stills, 5 behind the scenes photos from the filming of Tina's death scene, and 4 promotional shots.
by Melissa on Apr 30th, 2014 • Categories: Coronation Street • Comments: Comments Off

on Corrie Stills
by Melissa on Mar 20th, 2014 • Categories: Coronation Street • Comments: Comments Off

on Corrie Stills
by Melissa on Mar 20th, 2014 • Categories: Coronation Street • Comments: Comments Off

on On Set of Coronation Street – Mar. 10th
by Melissa on Feb 14th, 2014 • Categories: Coronation Street • Comments: Comments Off

on Corrie Episode Stills
by Melissa on Jan 19th, 2014 • Categories: Coronation Street • Comments: Comments Off

on 'I Was Surprised, Not Disappointed': Michelle Admits Over Murder Storyline
Coronation Street actress Michelle Keegan has admitted that she wasn't disappointed when she was told that her character on the soap – Tina McIntyre – was going to be killed off. Having decided to quit the soap last year, there was a lot of speculation about how Tina would leave the street. However, the speculation ended when Michelle revealed in an interview that her character was going to become the victim of murder. And now the actress has recalled how she felt when she was told that her character would be dying. Speaking to the Daily Star, Michelle who is engaged to former TOWIE star Mark Wright, said:

"When Stuart told me that Tina was going to be killed off I was surprised, not disappointed. Making my decision to leave was hard but in the back of my head I thought I might get the reassurance that one day I might be able to go back so it's made it all final for me. But to have been given such a huge exit I quickly realised that it would be best to go out with a bang and I can't wait as this storyline will be gripping."

Confessing that she still doesn't know who is going to kill Tina, Michelle continued to comment: "I have an idea who's going to kill her but haven't been told the full details yet. There are a few rumours flying around but I've got a meeting with Stuart coming up so I'm sure I'll find out then.

"I've still got a few months left to film my exit and I'm really excited about what the future holds. Poor Tina has lost her way but she's a good girl at heart. She's struggling and she's the one who's going to end up getting hurt the most. But as we all know, the truth always comes out in the end."

Meanwhile, the actress spoke of her chances of winning at the National Television Awards, insisting that her colleagues David Nelson and Julie Hesmondhalgh will win for Hayley's cancer storyline. She said: "I don't think I'm going to win it, not when you look at how David and Julie have played out their cancer storyline. There's not been a dry eye in the room when either of them have come on screen. As long as someone from Corrie wins, that's all I'm bothered about. I haven't a clue what I'm going to wear yet, it'll be all last minute as usual!"
by Melissa on Jan 19th, 2014 • Categories: Coronation Street • Comments: Comments Off

on Corrie Episode Stills
by Melissa on Dec 13th, 2013 • Categories: Coronation Street • Comments: Comments Off

on Corrie + Text Santa Special Stills
by Melissa on Dec 12th, 2013 • Categories: Coronation Street • Comments: Comments Off

on Corrie Stills & Promo Shoot